Weight Loss
What does this have to do with weight loss?
Here's the facts – the three types of exercise that we use are the #1 solution for making fat fall off your body. (more on that when we meet) I say that because of the thousands of people that have been through this program and the stories they tell will blow your mind (check the testimonial videos).
What that means to you is that as oppose to getting results and then putting it all on again, you will be learning to live a healthy lifestyle that is practical, fun and fast.
What that really means to you is that you finally get to go back to being proud to show off your body. You finally get to play with everyone at family gatherings and you blow them out of the water. You finally get to feel energy ALL DAY! You finally get to go back to the way things were before life got in the way of being healthy.
Simply put – you finally get back to being you!
If any of this fits your needs, you need to fill out the form on the right side of this page and get your consultation scheduled today. Do not let this cripple your lifestyle any longer – fill out the form right now!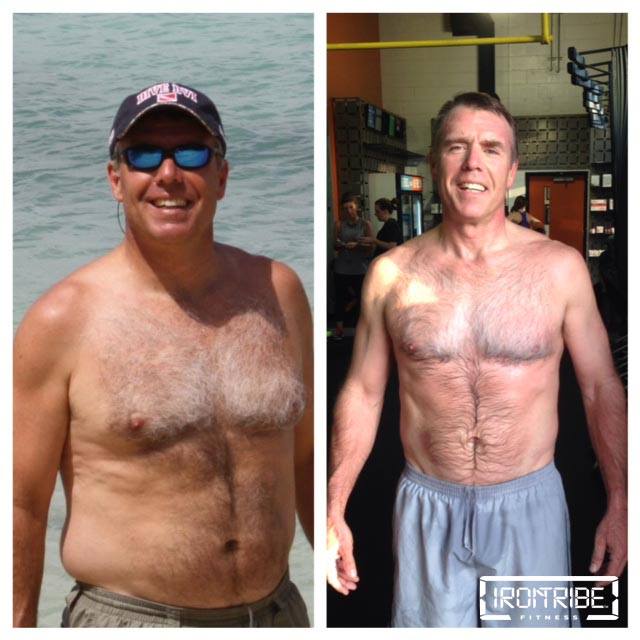 "When I started Iron Tribe, I weighed over 220 lbs and after the [Transformation] Challenge I was down to 181 lbs. Overall I lost close to 40 lbs since I started. I lost 15 lbs during the Challenge and I reduced my body fat by 32.5%…." *
* Results may vary and are not guaranteed.
WHAT IS IRON TRIBE?
A simple system of body movements, personal coaching, and healthy nutrition that makes you a better athlete, and a more fit and healthier person. And it starts with Iron Tribe 101.
This 30-day program teaches you the basic movements, as well as nutrition secrets that produce the fastest gains. By the time you graduate, you'll have new friends, a new fitness level and a new belief that, yes, you can do this!
After ITF 101, you're ready for our 45-minute daily classes, which are are available mornings, afternoons and nights from Monday trough Friday. Each class includes a warm-up, workout of the day and cool-down, and if you're still hungry for more there are special competitions & events on Saturdays too.
Thousands of athletes follow our workouts and participate at their local Iron Tribe. You'll find their results posted daily in our gyms, and right here on our website when you log in with your MY TRIBE account. You'll also find many other features to track your personal fitness and nutrition progress. At ITF, it's easy to chart your progress and stay on track!
WHO IS IRON TRIBE?
We are people of every age, color, body shape, and ability:
Women who want to feel confident (physically and emotionally), to have more energy for work and play, and to like what they see when they look in the mirror
Men who want to feel strong and warrior-like, to be physically ready for "battle" when needed and to look good too.
Parents who need strength and stamina to chase those kids around all day, a release from work's daily frustration or just more energy for their mate.
Business professionals who must have mental acuity, physical stamina, and emotional stability to perform at the highest levels in today's economy
Men and women over 50 who want to feel younger and avoid threats to their health like Arthrits, Alzheimer's, Stroke, Heart Disease, Cancer, Vision Loss and more.
Students and athletes who must battle peer pressure, be physically ready to compete in sports and perform at their best academically.
Please read and understand the following terms carefully.
irontribefitnesspewaukee.com strongly recommends that you consult with your physician before beginning any workout program and professional before doing any diet plan. You should be energetic and in good physical condition to do any exercise. irontribefitnesspewaukee.com is not a licensed medical care provider and represents that it has no expertise in diagnosing, examining, or treating medical conditions of any kind, or in determining the effect of any specific exercise on a medical condition.
All the workout plans on irontribefitnesspewaukee.com are performed by fitness experts. irontribefitnesspewaukee.com is only putting all best workouts plans on one place for you by giving all credits to its original performers. You should understand that when you are involved in any exercise or workout program, there is the possibility of physical injury. If you engage in this exercise or workout program, you agree that you do so at your own risk, are voluntarily participating in these activities, assume all risk of injury to yourself, and agree to release and discharge irontribefitnesspewaukee.com from any and all claims or causes of action, known or unknown, arising out of irontribefitnesspewaukee.com negligence. Please consult your doctor for medical advice, if you are suffering from any workouts or diets. This site provide information for educational and informational purposes only.